Dear Artists,
Moral Anxiety Studio
is in the initial phase of creating a new Visual Novel using 2D pixel art. Itís a single-player collection of interactive stories focused on the community of a small village set in a fantasy world.
Visual Novels
are focused on telling a story through dialogues and narration, although in this game we want to replace narration with small bits of animations, such as walking, looping simple idle movements or changing the color overlay. In VNs thereís almost no gameplay and making them reminds making a hybrid of a novel and a low-budget movie.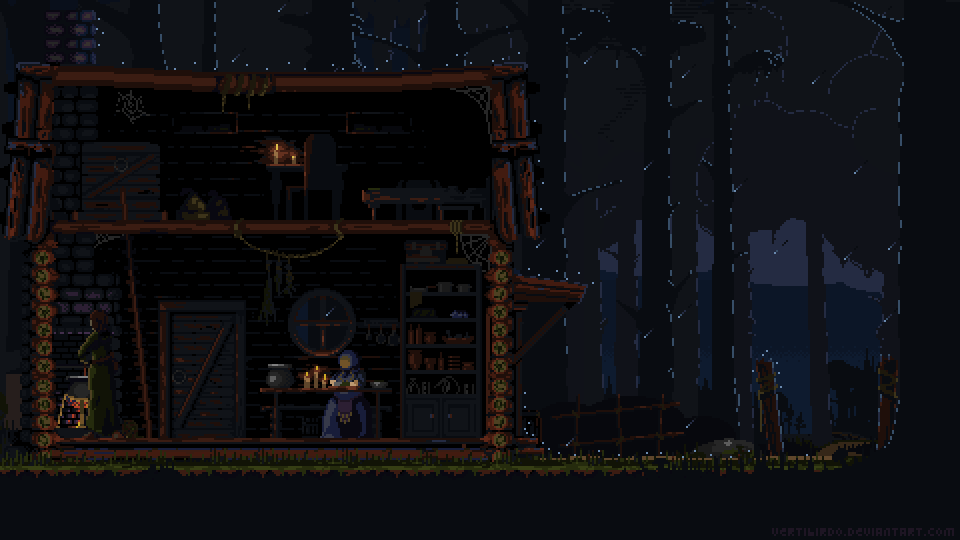 Current development:
We are currently focused on finishing (rewriting) the story and creating the skeleton of the game in Game Maker engine, so itís still a long road ahead of us.
What weíre looking for:
Even though our current pixel artist is amazing, he suffered from major personal problems lately and is even thinking about dropping his artistic journey. Weíre open to either replacing his art with a new style or to continue his current visual style with a new artist. Thereís still an option that the current artist will make some assets for us or help us design some characters/areas, but itís impossible to tell. Basically, we need to make all aspects of the graphics - characters, backgrounds, idle/plot animations and simple player's interface. The work can be shared between a couple of artists with coherent style, but I don't expect it to happen.
Payment:
We only just started to look for a producer and we currently donít have any budget. Because of it, the current payment model weíre offering is a shared revenue, and for that reason weíre looking more for a hobbyist artist who would like to spend a part of his or her free time to create art with us. If weíll find an outside budget, though, I will be more than happy to offer some pre-release salary, but Iím not going to make empty promises.
Other work conditions:
Even though I, as a writer, have a strong vision of our story and the world we set it in, I donít mind listening to an artistís opinions and allowing him or her for creative freedom. Also, if youíd be interested in making some personal art for yourself or share your work in progress related to our game on you website/social medias, I think its fine.
We still have a lot of time and I donít want to put some major pressure on you. I donít want you to burn out or to feel limited. As long as youíll let me know ahead of time, I wonít be worried if youíll disappear for a week or two for personal reasons.
Since itís not a strict, 30USD/hour job with a precise deadline, Iím not going to act like a privileged ass.
Contact:
Feel free to contact me by PM or through moralanxietystudio at gmail dot com. Iím going to send you our detailed pitch and the description of the story we want to tell to help you make your decision.
Thank you very much for reading my post and I look forward to hearing from you!
Maciej
Aureus
Gajzlerowicz