Hello,
We're Marcel & Jochem, working on the game Coromon (
www.coromon.com
), and we're looking for an SFX artist / voice actor who can make monster cries/voices.
--- What are we looking for? ---
Coromon is a monster capture game with roughly 130 monsters included.
Every one of these monsters should have a sound effect which represent the monsters: their unique and personal cry for when they are send out into battle.
A monster cry can be anything from purring or growling to shouting their own name. As long as it represents their design.
The Pokemon anime series has great examples, especially the short one as they are a better fit for a videogame. (
https://www.youtube.com/watch?v=PD73afIp0IU&t=2s
)
It looks like the best approach is to use voice-recording combined with editing them digitally.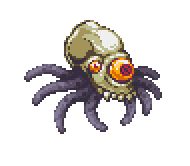 So are you up for this fun challenge!?
You could send us some SFX which you think could be relevant. Or let us hear what you are capable of by creating an example for one of the monsters above! They don't have names yet, so you can come up with your own if needed :)
Furthermore we would like to know a rough indication of expected amount of time working on a sound effect, and a pricing estimate, whether per hour or per effect.
Contact us at: coromonthegame@gmail.com
Looking forward to hear from you guys!
Kind regards,
Team Coromon