pretty good for a beginner, kinda reminds me of the sprites in golden axe. If you'll forgive my audacity, I made a quick edit: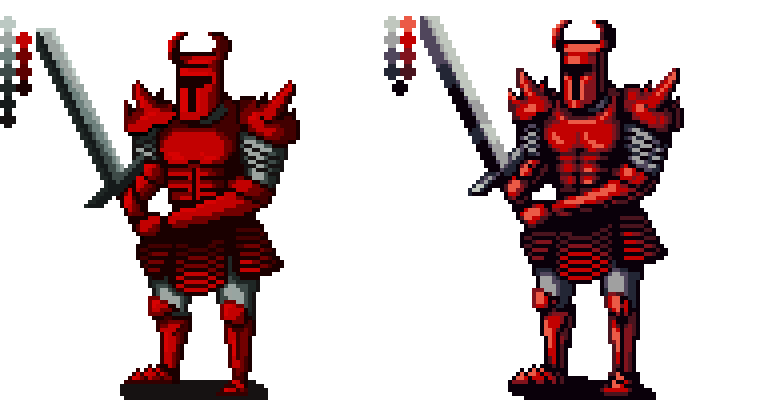 My main advice is:
-Make sure lines are anti-aliased ("AA'd") when possible. You can get away with not using AA (Cure, for instance, has a lot of great pixel art that keeps AA minimal) but I highly recommend learning how to AA properly if you want pixel art that looks smooth. Even touches of it can make a big difference IMO

-Avoid placing highlights right up against the boundaries of rounded forms. For example: put some distance between the forearm's dark edge and its highlight)

-Make sure forms appear symmetrical. For example: even out the helmet's bottom edge, the lengths of the calves...

-Shift hues between light and shadow. Adjusting hue and value simultaneously makes colors appear more dynamic. Usually, areas in shadow have cooler colors, while illuminated areas have warmer colors (the opposite can work too, though)
-Add core shadows to make surfaces appear shinier. This one's just a suggestion. Cyangmou's armor renders are probably the best reference out there if you like this sort of look. I also recommend checking out Snake's "Shovel Knight Redo", which features similar characters and scale to your drawing.
I made a few other adjustments, like lengthening the legs and making the elbows more level. I struggle with anatomy and proportions myself, so it probably isn't perfect, lol. Also I don't really know how to render weapons, either. Someone else might be able to help with that! Cheers