Pixelation Secret Santa gift for Ryumaru.
The criteria to work from:
Ryumaru said:
"So I was a little iffy about putting myself up to a secret santa this year, but after seeing so many anti- pokemons I HAD to go against the crowd so count me in!
I LOVE pokemon : D
Charizard, Scizor, Lugia, Suicune, Typholosion, Crobat ahh I could list so many but im sure thats enough for now :p
Other than that I like .... Art materials. Old holland and rembrandt paints, winsor and newton monarch brushes etc.
If your feeling adventurous some favorite old timey artists include Rembrandt, Vermeer, Caravaggio, Giovanni Boldini, Antonio Mancini."
Reference used is Vermeer's Girl with a Pearl Earring on the left, and the image to the right was the sketch I based my pixel piece on.
This was a fun project to do, so thanks Pixelation and thanks Ryumaru for the bizarre clash of subject matter to work off of!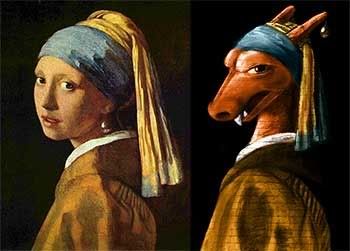 July 24, 2010: Was going through my old artwork directory and came across this so I went back and changed the earring as intended finally.