Create two sprites of a new and original character - a large version and a small version. The small version of the character should be roughly half the size of the large version of the character.

It should go without saying, but NO automatic resizing, both sprites should be created from scratch.

This image by Syosa may provide some inspiration: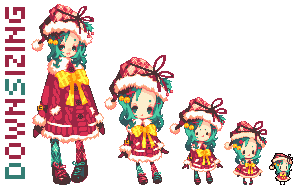 Canvas size - Unrestricted; both sprites must be presented on the same canvas.
Colours - Max 32.
Transparency - Required. The space betwen the sprites must be transparent.
Animation - No.


The challenge thread will have all the challenge updates. The thread is also a great place to post your WIPs.